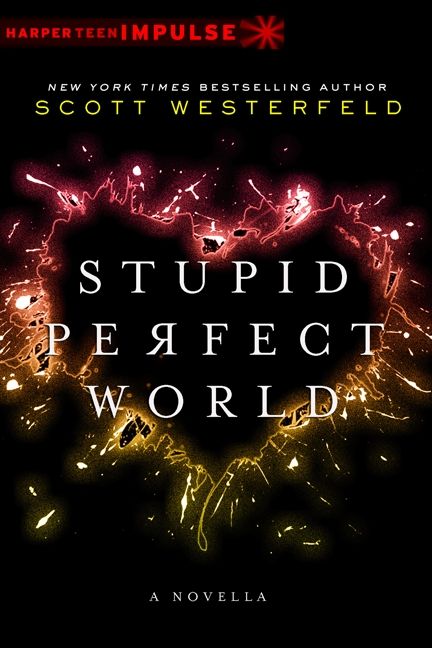 If you have read my review of Imposters, you know that Scott Westerfeld is my absolute favorite author, and as such, I've read more of his works than any other author.  A friend asked me if I'd read everything he has written and the honest answer is no – not yet.  So, in finding myself in a pinch to pick out another book to read, I searched the library for books by Scott that I haven't gotten to and that was how I stumbled upon the novella Stupid Perfect World. The premise seemed interesting, and I am glad I picked it up.
The premise of Stupid Perfect World is a time where most of life's problems are eliminated, no disease, instantaneous travel, no need for sleep.  In short, the world had reached a state of 'perfect' save for Scarcity class where students learn what it was like before things became perfected.  As part of their final project, the students have to spend two weeks living with one condition that plagued the people of the past.  The story focuses on two main characters Kieran and Maria.  Kieran chose to have to sleep for two weeks while Maria decided to go without her hormone balancers for two weeks.  Their individual projects end up crossing over with one another in unexpected ways for the characters but maybe not so unexpected ways for the reader.
Admittedly the story was a little predictable, but that didn't make the read any less enjoyable.  While the time of raging teen hormones is behind me, I found the experiences of Maria to be the most amusing most of all how she found the desire to pour out thoughts and poetry on to pieces of paper.
Overall, the story is a pretty quick and simple read that I enjoyed experiencing.  It wouldn't be the story I'd recommend if someone were looking to read Scott Westerfeld's books, but as a fan, I'm pleased.
Have you ever read or watched something just because you are a fan of the actor, writer, producer, director, character, what have you?  Were you please or left disappointed?